Volunteer
Volunteers have staffed Mary House since it opened in June of 1989.  They include students, retirees, carpenters, teachers, neighbors and friends.  Located in an old farmhouse in a rural setting, Mary House is in continuing need of repair and upkeep.  Volunteers have painted, roofed, and cleaned and decorated the house, yard, and garden.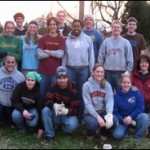 If you would like to schedule a work day or volunteer at Mary House, contact us
Donate
Mary House relies upon small donors to remain open.  Your tax-deductible donation will help to provide overnight hospitality and meals to children and families visiting inmates in the Federal Correctional Institution at Oxford.  Mary House is a non-profit charity based on the Catholic worker model of voluntary service. It is staffed completely by volunteers, and relies completely on small donations to remain open.  It is a 501(c)(3) charity, and donations are tax-deductible.