Dear Friends,                                                                                                             Advent, 2017
For the last 28 years I've sat down at this time of year to write to you about the work of prison hospitality at Mary House, and to ask you for your help in providing hospitality to the visiting children and families of federal prisoners here in rural Wisconsin. We are so grateful to every one of you for helping Mary House remain open to guests, year after year, season after season.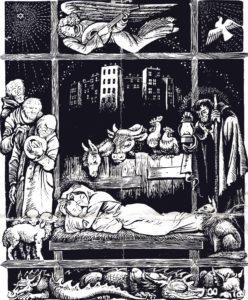 Last year I wrote that I had never had such a hard time being positive – about what lies ahead for the families who visit here, and especially our youngest guests. About the rough roads ahead in their lives as they navigate the challenging terrain that comes with being family to prisoners in the United States. About the struggles of these families to move from chaos to calm, crime to well-being, and poverty to security in the months and years ahead. And about the space that remains for love and forgiveness, even as we seem, as a country, to have chosen a path rooted in selfishness, distrust, unkindness and greed.
Now, one year on, the unchanged resilience and generosity of our guests, and the steadfast and enduring nature of children's love, are proof enough to me that love still wins. If we are longing to know that change is possible, we need look no further than the determined belief of these children that the fractured love in their own families can and will find a way. While it is undeniably true that hatred and greed and fear have found new voice in our country, the undiminished generosity and courage of these children and their families is a mighty challenge, and will win.
Our guest-room calendar is nearly full with the names of the families — some of them strangers and some of them returning friends, that will join us during the Christmas school holiday season. Their willingness to make this trip, driving through long dark nights and cold early mornings, eating crackers and peanut butter on long bus rides, arriving tired and cranky and happy and expectant and impatient, offers a peek at the season's most determined angels walking among us.
This is Advent. It's a time to honor those who wait, who are determined, who endure, who can envision a brighter day, whose love is steadfast, who don't give up. I know that some of the children I've met during the year are in that number, and are waiting now to make the trip back here, bringing the very best gift under any tree anywhere – their own persistence and love.
This season's guests are planning their travel now from Indiana, Minnesota, Detroit and Southern Illinois. They range in age from two years old to one great-grandmother. They work in service stations, bakeries, schools, and offices. They are members of churches and the US armed forces and girl scouts. They attend daycare, and kindergarten, third grade, high school and community college. They are from small towns in the Midwest, and the big cities of Chicago and Detroit. They love to read. They like to play pool. They are excited to see snow. They like to dance. They are Americans. They love their families.
Throughout this year, as I've talked with families making plans to visit here, I've heard a heartbreaking increase of wariness about driving and staying in this rural and unknown place. More families are worried that they won't be safe or welcome. ".. we want to be sure we have directions – the cellphone reception is bad, and I don't want to stop…. Will the house be open? I don't feel great waiting in the driveway if you're still at work…."   They want to be sure there is someone here when they arrive, and have good driving directions. Our guests have reminded me that they worry as they travel these roads that their families may be met by the hatred and violence that can sprig from a fear of strangers. They know how our state voted, and are less sure of a welcome for it.   But they are also undeterred, and thanks to your generosity and understanding Mary House is still here at the end of that long drive, warm, light, and open.
We are so grateful for your help, and we ask you now to keep Mary House's doors open this season and into the coming years.
The American criminal justice system holds more than 2.3 million people in 1,719 state prisons, 102 federal prisons, 901 juvenile correctional facilities, 3,163 local jails, and 76 Indian Country jails as well as in military prisons, immigration detention facilities, civil commitment centers, and prisons in the U.S. territories. The US accounts for only 5% of the world's population, but we hold nearly 22% of the world's prison population. One in 110 adults are incarcerated in a prison or local jail in the U.S., which marks the highest rate of imprisonment in American history.
Clearly this is not working and is anything but sustainable. The cost of warehousing human beings is staggering – both to our national spending priorities and to the thousands and thousands of lives and families impacted. And it is a trend that's not about to reverse course: the Justice Department under Jeff Sessions now seems intent on increasing rather than decreasing incarceration rates. Since 1980 our prison population has quadrupled, and now fully 1.6 million American children will face this holiday season with a parent behind bars. These children were never tried, or convicted, or sentenced. They have committed no crimes, but are nonetheless paying a terrible price.
This Advent finds many of us struggling to find a way to defend and strengthen the kindness and generosity that that makes us who we are, and Mary House is no exception.     In this time when many of us are questioning our lives and struggling with how best to stand up for what we believe in, what does persistence look like for Mary House?
This Advent, as we wait for the children who will visit us, and the parents and relatives that care for them, we are grateful for the miracle of hospitality, and lucky to be celebrating the willingness of these children to travel all this way, through bad weather in cramped back seats of uncertain cars on snowy, dark roads, and spend Christmas is an unfamiliar place with strangers – just to visit someone they love in prison. We need to recognize the cost to these families, and the economic hardship imposed by the need to travel just to maintain the family ties that are the greatest single factor in a released inmate's chances of remaining free. We are so honored to have the company of ALL our guests.
We need to cherish these visiting children and their families, and be grateful for the small miracle of hospitality – the presence in our lives of the unexpected joy and struggle of strangers.
 This year more than ever before, we are so grateful to you for recognizing the struggles faced by these families, and for your generosity in helping Mary House continue to provide basic hospitality while they are far from home.  We're grateful for your awareness of these children, and for your appreciation of their generosity and kindness. We're grateful for your faith in them, and your insistence that they have the right to see and know their whole family. We're grateful for your prayers and your encouragement.
And we're grateful to you for supporting Mary House financially during the busy and challenging holiday season. Without you, we would never have been able to open the doors here, and without your continued support they would close.
Each year at Mary House I am more and more in awe of the women and children and families who grace our door. For many of the families we serve, life has gotten harder and more uncertain. Immigration changes have impacted many of these families. Minimum wage jobs fall farther and farther short of what it takes to raise a family. Health insurance has again become uncertain, and the cost of care threatens to rise for many.   The costs of traveling here to visit continue to rise.
Yet these families make this trip at Christmas carrying love in the trunks of their rented cars, and grit and determination in suitcases and child-sized backpacks. While some of us are packing up skis or swimsuits in hopes of escaping the working world, these children have packed up hope and brought it along to an old white farmhouse in a cold field in Wisconsin.
These children are full of anticipation – despite the fact that before they get through the door at FCI Oxford they'll have to sit in a car on the side of a county road outside the prison until the exact minute their moms are allowed to drive into the parking lot, then stand in a line until they can take off all their shoes and sweaters and hairclips and belts and hope to make it through one single slow metal detector, then wait in another line, to walk down a long hallway, to wait again. Quietly. They are so generous with their energy and so willing to carry their love such a long long way, over and over and over again, that they easily put the rest of us to shame.
These children and their families are an example to us all of the kind of determination we will need in order to make the change we want to see in our country in the coming months and years.  With enthusiasm, with determination, with creativity and humor and stubbornness, and above all with bountiful and enduring love. We are so grateful to all of you for helping us to welcome them.
For many of us, travel to see family and loved ones is an expected part of the Christmas season. But for some of our guests it is nearly impossible, and it is your help that tips the balance.   Mary House receives no state or federal funding.   We rely upon your financial contributions to continue providing warmth and safety, hot chocolate and warm blankets, to the families who stay with us — during the holidays and throughout the year. Will you help us once again to keep this old farmhouse warm, and make sure the doors are open as the New Year arrives?
I know that we have asked you before. We have asked you over and over for 28 years to help us keep responding to the needs of these families. Now, this year, I am asking again that you hold our guests in your hearts as all of us struggle to find a way to stand strong for kindness and generosity, respect and human decency as we work to change landscape of our country for the better.
Our heartfelt thanks to you for all of your support. May your own holidays be filled with love, with hope, with courage, and with the joys of family and loved ones gathered together.
With deepest gratitude,
Cassandra Dixon, for Mary House
Your contribution to Mary House, in any amount, is tax deductible. To donate online using paypal or a credit card, please visit our website at www.themaryhouse.org.
Thunder rumbles in the mountain passes
And lightning rattles the eaves of our houses.
Flood waters await us in our avenues.
Snow falls upon snow, falls upon snow to avalanche
Over unprotected villages.
The sky slips low and grey and threatening.
We question ourselves.
What have we done to so affront nature?
We worry God.
Are you there? Are you there really?
Does the covenant you made with us still hold?
Into this climate of fear and apprehension, Christmas enters,
Streaming lights of joy, ringing bells of hope
And singing carols of forgiveness high up in the bright air.
The world is encouraged to come away from rancor,
Come the way of friendship.
It is the Glad Season.
Thunder ebbs to silence and lightning sleeps quietly in the corner.
Flood waters recede into memory.
Snow becomes a yielding cushion to aid us
As we make our way to higher ground.
Hope is born again in the faces of children
It rides on the shoulders of our aged as they walk into their sunsets.
Hope spreads around the earth. Brightening all things,
Even hate which crouches breeding in dark corridors.
Excerpted from Amazing Peace: A Christmas Poem, By Dr. Maya Angelou